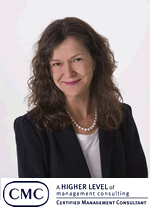 Lillas Marie Hatala, MCEd, CPHR, CMC
Executive Director at Integrative Leadership International Ltd.
Lillas brings over 30 years experience as a leading edge leadership and management development practitioner, facilitator, coach and consultant, working with individuals, teams, and organizations in the private, public and not for profit sectors, in North America and beyond. She is the coauthor of Integrative Leadership (2005), The Integrative Leadership Study Guide (2008), The Business Case for Leadership Development (2008), and numerous published articles. Lillas recently updated and further developed the Mount Royal University Leadership Development Extension Certificate Program, and teaches the foundational courses, several electives and the capstone course. Her most recent initiative, with long time colleague and collaborator, Linda Mc Cann is Women in Leadership for Life (WILL).

Lillas has a Masters Degree in Adult and Continuing Education, is a Certified Professional in Human Resources Certified Management Consultant, an Inspirational Coach (Certificate from the University of Strathclyde), Certified Feminine Power Transformational Leadership Coach, a graduate of the Mount Royal University Coaching Program, and a member of the International Leadership Association and Business and Professional Women Calgary chapter.

Through her own organization, Integrative Leadership International Ltd, Lillas challenges leaders to expand their awareness and bring greater levels of consciousness and significance to their lives, their teams and their organizations. Her interest in the integrative or "whole" person has led her to become a Registered Yoga Teacher (RYT500) with the International Yoga Association, and to study at the Chopra Centre for Wellbeing, Shambala Institute, Center for Timeless Being, and Sivananda Organization, among others.

To read Lillas Marie Hatala's resume please click here.