Dr. Joel & Michelle Levey: I.L.I. Board Members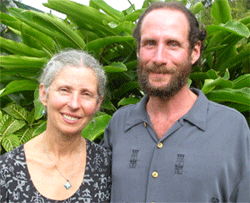 Dr. Joel & Michelle Levey's integral and pioneering work spans many disciplines including: developing healthy high performing organizational teams and cultures; leadership development & change resilience; integrative & mind body medicine; noetic & mind sciences; peak performance training & laboratory research on extra-ordinary human potential.

The Leveys are co-founders of: WisdomatWork.com; InnerWork Technologies, Inc.; The International Center for Corporate Culture & Organizational Health; SportsMind, Inc.; and the International Center for Contemplative Inquiry.

Over the past thirty years, their work in the world has inspired leaders and teams in over 200 leading organizations around the globe including: NASA, World Bank, Hewlett Packard, Intel, Intuit, Washington Mutual Bank, Providence Medical Centers, PetroCanada, Shell Oil, Phillips, Rhone-Poulenc Rorer, Weyerhaeuser, Menninger Foundation, Boeing, MIT, The Institute for Health & Productivity Management, and SRI International. They have directed clinical programs for Group Health HMO and Children's Medical Center in Seattle, lectured at dozens of Universities and medical schools, served as faculty at Antioch & Bastyr Universities, and the Indian Institute of Management (IIM) in Ahmedabad India, and as core faculty for International Center for Organization Design and the World Business Academy.

Michelle & Joel have coached a number of Olympic and World Class champions and designed & directed biocybernautic training for the US Army Green Berets' acclaimed "Ultimate Warrior Training Program, a.k.a. "Jedi Warrior" which was described by West Point leaders as, "The most exquisite orchestration of human technology that we have ever seen," Michael Murphy & George Leonard, founders of the Esalen Institute described the program as, "Jedi Warrior was the most extensive and advance leadership development program to be offered in modern times." Michelle & Joel were honored by the Institute of Noetic Sciences--for whom they have participated in numerous research colloquiums-for their integral work as leading contemporary "teachers of transformation."

The Leveys' published works have been translated into 9 languages and include: Living in Balance: A Dynamic Approach for Creating Harmony & Wholeness in a Chaotic World; Wisdom at Work; A Moment to Relax; The Fine Arts of Relaxation, Concentration, and Meditation: Ancient Skills for Modern Minds; Simple Meditation & Relaxation, and Corporate Culture & Organizational Health: A Critical Analysis of How Workplace Culture Influences Business Success.. They have contributed chapters to many anthologies including: Voices on the Threshold of Tomorrow; Intuition at Work; Community Building in Business; Rediscovering the Soul in Business; and The New Bottom Line.

For more information please visit: www.wisdomatwork.com.